AireSpring Featured in CRN 2018 Cloud Partner Program Guide
Guide Highlights Leading Cloud Partner Programs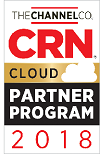 LOS ANGELES, CA – September 21, 2018 – AireSpring, a leading provider of cloud communications and managed connectivity solutions, announced today that CRN®, a brand of The Channel Company, has recognized AireSpring in its 2018 Cloud Partner Program Guide, a list of leading technology vendors with cloud-related partner programs that enable and accelerate the growth of solution providers' cloud initiatives.
The CRN 2018 Cloud Partner Program Guide serves as a valuable resource for solution providers navigating the growing cloud marketplace, assisting them in finding technology suppliers with ground-breaking cloud offerings and partner programs. To meet the requirements for inclusion in the Cloud Partner Program Guide, tech vendors must have unique partner program benefits that deliver cloud infrastructure or applications.
"With so many options available in the cloud marketplace today, solution providers often have a difficult time deciding which vendors offer the best program to complement their business strategy," said Bob Skelley, CEO of the Channel Company. "The CRN Cloud Partner Program Guide helps to simplify the process by researching and identifying the cloud partner programs with the most comprehensive combination of resources, support, training, and financial incentives. Our 2018 guide includes a strong combination of innovative companies who support their partners' needs and help them to succeed."
AireSpring's 100% channel focus and industry-leading channel sales model is well known among telecom sales agents and IT VARs. The company continues to build channel presence in all regional and national markets, at the same time growing a talented team of solutions architects and engineers who are leading experts in cloud communications. AireSpring's most recent cloud offering is Multi-Cloud Connect, a new enhanced way to securely connect to leading cloud services providers such as Amazon Web Services (AWS), Microsoft Azure, Alibaba, Google Cloud, IBM, Oracle and Salesforce.
"We are honored to be included in the CRN 2018 Cloud Partner Program Guide, as a leader in both cloud communications and robust partner programs," stated Daniel Lonstein, AireSpring President and Chief Revenue Officer (CRO). "We continue to build our extensive menu of cloud services and products to keep pace with fast-changing technologies, as we work to expand partnerships through our 100% channel focused business model."
The Cloud Partner Program Guide will be featured in the October issue of CRN and can be viewed online at www.crn.com/cloud-ppg.
About AireSpring

Founded in 2001, AireSpring is an award-winning provider of cloud communications and Managed Connectivity solutions, serving thousands of businesses nationwide. AireSpring provides fully managed and connected end-to-end, next-generation solutions for multi-location enterprise customers. Services include Multi-Cloud Connect, SD-WAN, AirePBX™ Cloud Business Phone Systems, AireContact® Cloud Contact Center, SIP Trunking, MPLS, Disaster Recovery, Managed Security, and Business Internet. AireSpring's solutions are offered through a diversified network of channel partners that includes distributors, master agents, managed service providers (MSPs), and value added resellers (VARs). AireSpring's services are delivered over its revolutionary nationwide MPLS Mesh network, providing customers a fully integrated, end-to-end solution from a single vendor.
AireSpring has received numerous industry awards for "Next-Gen Solution Provider," "Top Midmarket Vendor Executive," "Product of the Year," "Best Telecom Deal," "Best in Show," and "Top Channel Program." AireSpring is privately held, diversified, debt-free, and renowned in the industry for delivering a broad range of innovative cloud communications and connectivity solutions at competitive rates. To find product information or to become an AireSpring partner or agent, please visit www.airespring.com or contact us at (888) 389-2899.
Contact:
Ellen Cahill
Senior VP Marketing
AireSpring
818-738-1913
ellen.cahill@airespring.com